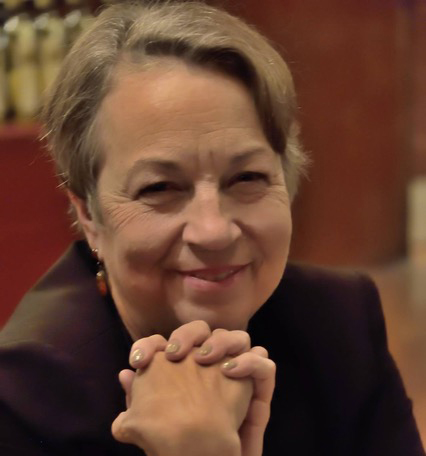 Deborah Brevoort is a playwright and librettist from Alaska who now lives in the New York area.  She is an alumna of New Dramatists, one of the original company members of Alaska's Perseverance Theatre, a member of the playwright's collective at Florida Studio Theatre and a co-founder of Theatre Without Borders, dedicated to international theatre exchange.
After participating in American Lyric Theater's Composer/Librettist Development Program, Deborah has turned her attention to writing opera librettos. She has penned 10 librettos and now serves as the Librettist Mentor for Washington National Opera's American Opera Initiative at the Kennedy Center. In 2023 she was awarded the prestigious Campbell Opera Librettist Prize by Opera America.
Deborah is best known for her plays The Women of Lockerbie, which is produced internationally, and My Lord, What a Night, about the friendship between Marian Anderson and Albert Einstein, which is headed to the West End and Broadway after being produced at Ford's Theatre in Washington DC in a production directed by Sheldon Epps.
The Women of Lockerbie won the Kennedy Center's Fund for New American Plays Award and the silver medal in the Onassis International Playwriting Competition. Published by DPS and No Passport Press, the play has had nearly 800 productions and is translated into nine languages. Deborah is adapting the play into an opera with composer Shawn E. Okpebholo.
My Lord, What a Night, was developed through a rolling world premiere with National New Play Network at the Contemporary American Theatre Festival in WV, Orlando Shakespeare Theatre and Florida Studio Theatre. It will be produced at the Wallis Annanberg Center in L.A. in 2023. It began as a one-act play commissioned and produced by Premiere Stages in the NJ Liberty Live program.
The Drolls, a full length comedy about the closure of the theatres in Puritan, England in 1659 was commissioned by Florida Studio Theatre during the Covid 19 pandemic.
The Blue-Sky Boys, a comedy about the role of the imagination in NASA's Apollo program, was written with a commission from the EST/ Sloan project where it was awarded the Galileo Prize. It was produced at Barter Theatre and Capital Rep, directed by Gordon Greenberg, where it was the #1 critics pick for The Berkshire region in 2016.
The Comfort Team, about military wives during the surge of Iraq, was written with a commission from the Virginia Stage Company, where it premiered in 2012. It was the first-ever theatre project to receive a grant from Harpo Marx's Harpo Foundation. It also received an artistic excellence grant from the National Endowment for the Arts.
The Poetry of Pizza, an Arab/American cross cultural comedy about love, was produced at Jeff Daniel's Purple Rose Theatre,Virginia Stage, Mixed Blood Theatre, California Rep, Centenary Stage, Theatre in the Square and Stage 3. It premiered in Denmark, in Danish, in 2012.
The Velvet Weapon, a back stage farce, was written with a grant from CEC ArtsLink and a playwriting fellowship from the NJ State Council on the Arts. It won the national playwriting contest at Trustus Theatre and received a workshop in LaunchPad at UC Santa Barbara.
Into the Fire won the Weissberger Award and is published by Samuel French. Signs of Life won the Jane Chambers Award, a Rockefeller Foundation grant, and the gold medal in the Pinter Review Prize for Drama. It is published by Samuel French.
Deborah has written the librettos, books and lyrics for numerous musicals and operas. She is a two-time winner of the Frederick Lowe Award in musical theatre for her musicals and a three-time winner of the prestigious Frontiers Competition at Fort Worth Opera for her opera librettos.
Her latest opera is The Knock, about military wives, with composer Aleksandra Vrebalov. Commissioned by Cincinnati Opera and the Glimmerglass Festival, it was made into a live-action film during the pandemic, available on YouTube, and was a finalist for Opera America's Digital Excellence in Opera award. It premiered on stage at Cincinnati Opera in June 2023.
Blue Moon Over Memphis, her Noh Drama about Elvis Presley, will tour Japan in 2024 in a traditional Noh production with orchestrations by Theatre Nohgaku's Richard Emmert. It will be published in 2023 in Japanese by the Waseda Foundation and in English by Cornell University Press. Earlier versions were published by Applause Books in "The Best American Short Plays" and in Japanese in the Noh Research Archives in Japan.
Quamino's Map, about enslaved Americans who fought for the British during the Revolutionary War, premiered at the Chicago Opera Theater in 2022 composed by Errollyn Wallen.
Murasaki's Moon, with Michi Wiancko was commissioned by NYC's Metropolitan Museum of Arts, On-Site Opera and American Lyric Theater and premiered in 2019.
During the pandemic, she wrote Dinner 4 3, with composer Michael Ching, a sex farce based on Boccaccio's Decameron, for an opera web-series produced by the Decameron Opera Coalition.
Embedded, an opera inspired by Edgar Allan Poe, with composer Patrick Soluri, was commissioned by the American Lyric Theater (ALT). It won the Frontiers competition at Ft. Worth Opera, where it was produced in 2016. It premiered at the Fargo-Moorhead Opera.
Steal a Pencil for Me, an opera set in the Holocaust, with composer Gerald Cohen, won the 2016 Frontiers competition at Ft. Worth Opera and premiered at Opera Colorado in 2018. A CD of the opera will be released in 2023.
Albert Nobbs, an opera with composer Patrick Soluri, won the 2019 Frontiers Competition at Ft. Worth Opera. It was a finalist for the 2018 Pellicciotti Prize in Opera composition.
The Polar Bat, a new adaptation of Die Fledermaus set in the world of Alaskan reality TV, was commissioned and produced by Anchorage Opera where she also wrote a new libretto for Mozart's comic opera The Impresario.
Coyote Goes Salmon Fishing, a musical with composer Scott Davenport Richards, won the Frederick Loewe Award and was produced at the University of Houston by Stuart Ostrow and Perseverance Theatre in Alaska, directed by Molly Smith.
King Island Christmas, an oratorio with composer David Friedman, also won the Frederick Loewe Award. Based on the Alaskan children's book by Jean Rogers, the cast album was produced by 12-time Grammy winner Thomas Z. Shepard, featuring Chuck Cooper and Marin Mazzie. There have been over 60 productions in the US, Canada and Australia. Goodbye My Island, a musical with David Friedman, also based on an Alaskan children's book by Jean Rogers, was workshopped at New Dramatists with grants from Cameron McIntosh and Yip Harburg Foundations.
Deborah is currently writing Loving, a musical about the Loving vs. State of Virginia story with composer Diedre Murray; Other projects in the pipeline include: Tiffany Girl, a musical about Clara Driscoll, the true creator of the Tiffany Lamp, with composer Julianne Wick Davis; and The Red Thread, an opera with Wang Lu.
Deborah serves as an artistic mentor to the NBO Musical Theatre festival in Nairobi, Kenya where she is mentoring new musicals written by Kenyan composers and writers. She currently teaches in the NYU graduate musical theatre writing program and the MFA playwriting program at Columbia University.
She received the Paul Green Award from the National Theatre Conference for her musical book writing. She has received grants and commissions from the NEA, Rockefeller Foundation, NYFA, CEC Arts Link, New Jersey Arts Council, Alaska State Council on the Arts, Danish American Society, Ludwig Vogelstein Foundation, American Antiquarian Society, Brown University, The Harburg Foundation, Banff Playwright's Colony and others. She received the Joe Calloway Award and was a MacDowell Fellow. She has done residencies in Canada, Mexico, Australia, Denmark and the Czech and Slovak Republics. She is a resident artist at the American Lyric Theater. She is a member of ASCAP, Opera America and the National Theatre Conference.
She holds MFA's in playwriting from Brown University and in musical theatre writing from NYU's Tisch School of the Arts. Her website is: www.DeborahBrevoort.com. Agents: Elaine Devlin Literary Agency (NYC) [email protected] & Meg Davis, Ki Literary Agency, London. [email protected]