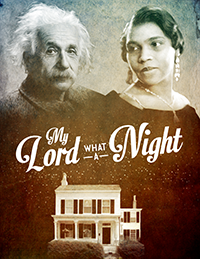 My Lord, What a Night
In 1937, legendary singer Marian Anderson gave a concert in Princeton, NJ and was refused a room at the Nassau Inn because she was black. Albert Einstein invited her to stay at his home beginning an intimate friendship between the two that would last a lifetime.
Two years later, Anderson was denied the right to sing at Constitution Hall in Washington DC, which led to her historic concert on the steps of the Lincoln Memorial and the beginning of the civil rights movement.
Inspired by actual events, My Lord, What a Night is a full-length play that explores the struggles faced by two icons of the 20th century who dealt with the injustices of Jim Crow and the rise of anti-Semitism during a highly divided era in American history.
"A significant theatre event,"  —DonMurano.com blog (W. Va.)
"My Lord, What a Night, explores the relationship between two 20th-century greats…not only their personal ties, but their place in the social and political struggles of their time. The contrast with current events could not be more bitterly ironic."  —DC Metro Arts
"A significant piece that touches on many issues including racism, anti-Semitism and the struggles to move beyond. Worth seeing."  —Maryland Theatre Guide
"A singer, a scientist, and a night to remember."  —NJ Arts
"Highly rated. Brevoort aims to dramatize the way in which racism and antisemitism in the 1930s…continue to stalk the world today. The correspondence to today's issues is important [and] the drama works."  —Broadway World.