COOPERSTOWN, NY:  The Glimmerglass Festival, the summer opera and musical theater festival in Cooperstown, New York, has announced plans for the summer of 2021 in the wake of its 2020 season cancelation due to COVID-19.  Included in the summer 2021 season will be a new program, called COMMON GROUND, a three-year initiative that will unveil six new pieces that tell stories of life in America.
"Now, more than ever, we need to find common ground," Zambello said. "I believe the arts can help us forge new connections and serve as a catalyst for dialogue. These new works will offer the stories of your neighbors, of family members and friends, and then also the stories you perhaps aren't as familiar with, seeing a different side of this country we all share."
The works will showcase a wide variety of creative voices, diverse approaches to storytelling, and will offer insight into often untold American experiences.
The 2021 season features two pieces: ​ ​The Knock,​ a world-premiere opera by ​Aleksandra Vrebalov​ and ​Deborah Brevoort​ and On Trac|<​, a dance piece with a score by ​Nicolas Lell Benavides and choreography and performance by ​Amanda Castro,​ which looks at the intersection of human and machine in rural America.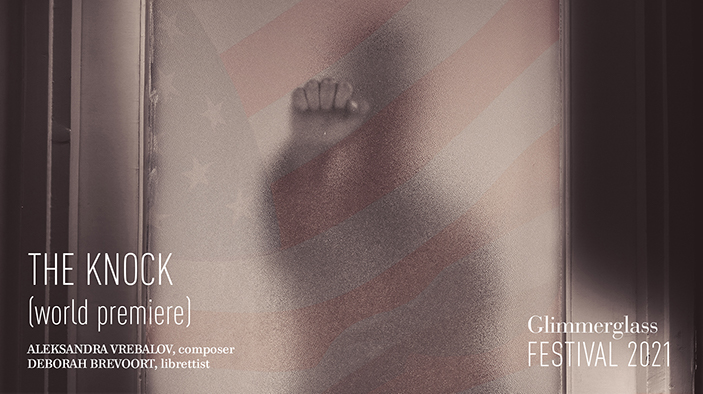 The Knock
The Knock ​is a one-act opera that tells the story of a group of military wives awaiting news of their deployed husbands. The libretto is based on years of interviews conducted by Brevoort with spouses of soldiers and takes the audience into the lives of America's military spouses, a group not yet seen on the opera stage.
"For those unacquainted with military jargon, 'The Knock' is the expression used by military wives for a death notification," Brevoort said. "Military wives come from diverse communities, many of which are underprivileged; their husbands are serving in the military because of a lack of other opportunities. The 'knocks' are mostly delivered to them."
Vrebalov's close to 100 works range from concert music and opera to music for modern dance and film.
"The story is personal for me because I grew up in a family of WWII heroes," Vrebalov said. "I grew up with a strong sense of pride from being from a family who gave their lives for their country. But at the same time, there was so much behind-the-scenes grief that marked the family. While writing ​The Knock,​ I wanted to share the public side of a hero's sacrifice, but I also wanted to share the rawness of personal loss."
For more information:  https://glimmerglass.org